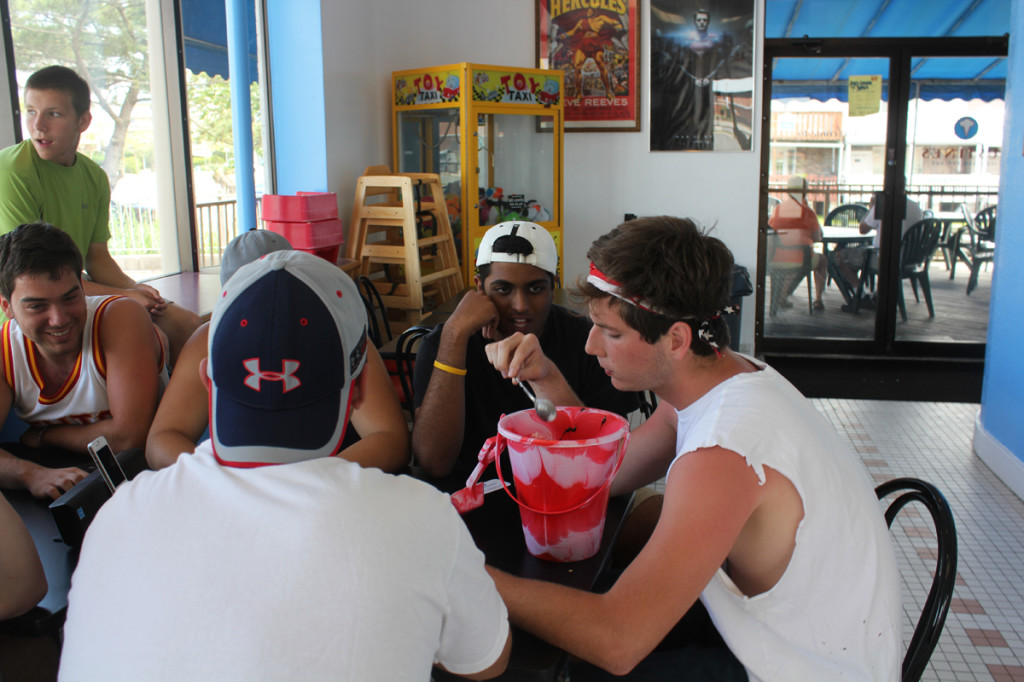 Neil Pervola is the first person to succeed The TITANIC challenge in Ocean City. He went down on the TITANIC in a half hour with 3 minutes to spare… and survived! For 27 minutes he ate his 3 lb 10 oz TITANIC Sundae!
Neil is a graduating senior from Pasadena, MD, who came in with a group of his buddies and we congratulate them, but especially him on both successes!
As he was going down on the TITANIC, his friends were cheering and motivating him with the theme from "Rocky".
We will be sending him his well earned" I went down on the TITANIC at Justine's  Ice Cream Parlour… and SURVIVED!" T-shirt! You cannot buy this special T-shirt! You have to earn it by surviving the TITANIC challenge in under 30 minutes!
We will have a second version of the T-shirt for sale which states: "I went down on the TITANIC at Justine's Ice Cream Parlour" for those who sink!
"YOU ARE KING OF THE WORLD, NEIL!"
Dare to take The TITANIC Challenge at Justines!
2 Responses to "Neil Pervola is the first person survived The TITANIC"