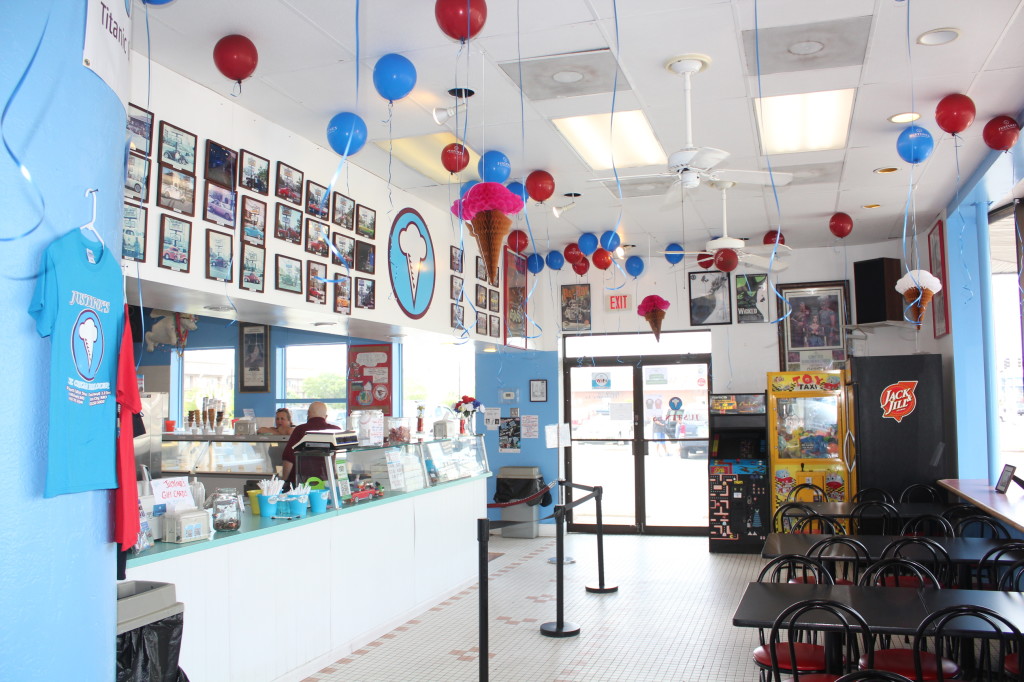 Happy May 1st!!! And it is definitely a Happy May Day because Justine's Ice Cream Parlour in Ocean City is opened for the Season!
Owners Tom and Cody hope you had a good Winter despite all the bad cold weather and we know you are looking forward to warmth and Ice Cream Weather as much as we are! We did get to Disney World in February and ate our way through their ice cream concessions.  I had not been to Disney since 2001 and Cody had never visited so we had a blast, even if the weather was a little chilly for Florida…I guess no one was sparred that.
But we are back in Ocean City now, refreshed and ready to go. And this weekend promises to be brilliantly beautiful!
As a special WELCOME TO JUSTINE'S OC 2015 REOPENING we are offering all of our returning friends and our new ice cream lovers the following
$1.00 OFF ALL ICE CREAM DESSERTS WE SERVE!!!
And that includes CONES AND CUPS (40 Flavors!), SHAKES (over 75 of them including all of Justine's Famous Wall of Shakes!), SUNDAES, FLOATS, ICE CREAM FLOATS, OLD-FASHIONED ICE CREAM SODAS, BANANA BOATS, SNO-CONES, AND SOFT SERVE!
No one in Ocean City has the variety and/or offers what Justine's does.
This offer is not good with any other promotion we offer, and does not include fountain sodas and non ice cream beverages).
So if you're in Ocean City for Bike Fest or just visiting for the day or weekend, we invite you to come to our location on 123rd Street and Coastal and try what Trip Advisor calls "The Best Ice Cream in Ocean City"!
April 30, 2015 This post was written by Tom Categories: Discounts • Event • Ice Cream • Information Message • News • Promotion • Shakes • Summer • Sundaes No comments yet