Justine's OC will be closed on Monday and Tuesday. We will open on Wednesday May 7th at 5 p.m.
It was an amazing first weekend for us at Justine's Ocean City. We were happy to meet all of our local and weekender friends from last Summer! Thank you for stopping by and saying "Hi".  We were sincerely happy and actually overwhelmed by your welcome back kindness.  It was also nice to meet a lot of new first time visitors to Justine's who found us by local's recommendations, Google, Facebook, and/or Trip Advisor.  We look forward to seeing you again Summer '14!
A lot of new Justine's ice cream surprises coming your way… Look for our "BYOB DAY"!!!  That's "Bring Your Own Banana" and Get a Discount Day!  $1.00 off! When was the last time you had a great Banana Split?!!!  Or…have u ever even had one?!  It's a new generation that doesn't know from the lunch counter at Woolworth's…We are bringing back that tradition.  And maybe we will add the "balloons"…who remembers that?….. Well, we call them "BANANA BOATS" with 2 scoops of YOUR CHOICE of the 40 Justine's Premium Ice Cream flavors that we offer, and YOUR CHOICE of  2 of our many Wet or Dry Toppings. Or…If you want the biggie try our BANANA YACHT with 3 scoops of Justine's Premium Ice Cream flavors and 3 Wet or Dry Toppings…YOUR CHOICE!!!  Unlike others, you always get the choices YOU want at Justine's.  Not the "We don't do that.  You can't have that" attitude.   Are they serious?!!  It's ICE CREAM!!!  And yes, we do know how to make the classic "Banana Split" if you don't want to choose or you want that classic!  (Do you remember what that was?).  "Justine's Does It The Old Fashioned Way".  And…"WE LOVE ICE CREAM"!
Tom, Cody, and of course, Kathy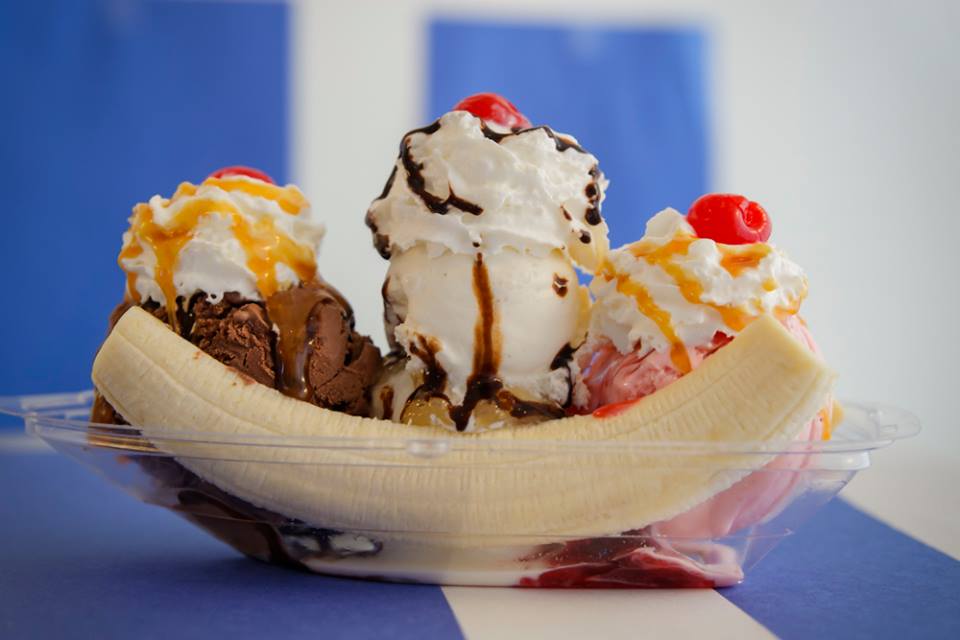 May 6, 2014 This post was written by Tom Categories: Holiday • Information Message • News No comments yet