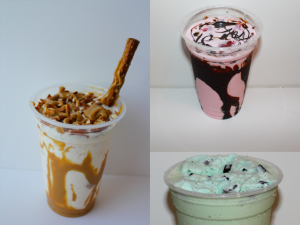 Do not let the bad weather ruin your day! It is still summer! Come to Justine's and enjoy premium ice cream. For each sundae and milk shake ,you will get 1.00 $ OFF from the regular price.
Try our premium milk shakes- Creamsicle, Chocolate/ Peanut Butter Covered Pretzel, Hot Fudge Sundae shake, Key Lime Shake and many more! For coffee lovers we have shakes with shots of espresso. Try Express Shake or Mocha express- blend of rich chocolate ice cream and strong "Lavatzza" espresso shot!
If you love chocolate and fruit, you can try Chocolate covered Strawberry/ Cherry/Peach/Blue Raspberry, Orange. For coconut lovers,  try the Coco-Coconut Shake! It is "out of this world"!
Ask our friendly staff for assistance in finding the best milk shake that fits your palette!